Security on the Road:

Will the route be closed to traffic during the race?
The route will not be closed to vehicles but it will be secured and the riders will benefit from a right of way during some sections of the race.
- Hundreds of marshals will be present on the side of the road to ensure the peloton's safety.
- On top of the race, management cars (front, middle and back of the peloton).
- Motorbikes escorts specialised in cycling races will safeguard the riders.
- Broom wagon at the rear of the peloton.
- In some areas, the Haute Route will benefit from the Law enforcement authorities' support to secure the strategic junctions.
Participants must adhere to the rules of the road, race officials, marshals and traffic police at all times including the following:
• Cycle on the right-hand side of the road, at all times.
• Do not cross the middle of the road at any time.
• Comply with all event road signage put in place by the organisation.
• Respect traffic signal lights or signs if they are not secured by a race official, marshal and traffic policeman.
• Respect other road users who are not involved in the race.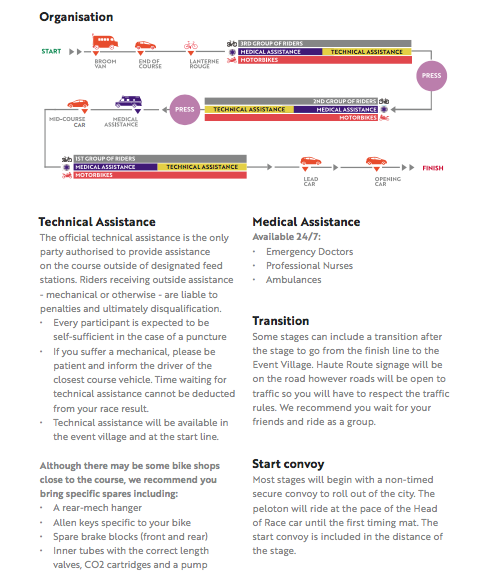 More information in the Rules & regulation, article 8: safety during the event

Signage On The Road: